To some the question of whether or not fish is meat is a very confusing issue. Many people consider fish meat because a fish is a living creature so if you consume its flesh you're eating meat. Others feel that meat only refers to animals that walk on the land, things like cows, pigs and chickens. So, to answer this question you may have to settle for the very frustrating "it depends."
Nutritionally, fish and more traditional meats like beef, pork, lamb or poultry all offer high protein and can be eaten interchangeably in most diets.
Why Is Fish Considered Meat By Some and Not Others?
The distinction in whether fish is meat lies in how you define the word "meat." Not everyone defines it the same way. One of the great divides among diners is along protein lines. We classify the way people eat by the proteins they consume. Consuming meat and vegetables is considered the baseline or the standard diet so much that we don't typically have a name for people who consume such a diet. If we were to use a word, we'd call those people omnivores.
Beyond omnivores we break down diets based on types of proteins people consume. While neither a vegetarian nor a vegan will eat fish, a pescatarian vegetarians eat fish and vegetables and would happily enjoy some smoked trout but not other meats. However, a pescatarian will not eat meat like beef, pork or chicken. This is where the confusion tends to arise among people since fish are classified, in some people's minds, as different from land animals. This actually has its roots in religious antiquity.
Defining Meat
In a strictly technical, dictionary sense, meat is usually defined as the flesh of an animal consumed for nourishment. Merriam-Webster has a curiously complex definition.
animal tissue considered especially as food:
a
: FLESH sense 2b
also : flesh of a mammal as opposed to fowl or fish
b
: FLESH sense 1a
specifically : flesh of domesticated animals
Already, in one definition, you may have excluded both chicken and fish, but also maybe not. You may have excluded all game meat, but also maybe not. This is thanks to the fact you can choose which definition you want here.
Wikipedia's one line definition is "meat is animal flesh that is eaten as food." That's much more broad and all-encompassing. Because there is no settled definition on what meat is similar to the way you can much more clearly define what a fruit is or what dairy products are, it becomes hard to get everyone on the same page.
Religious Definitions of Meat
The distinction between meat and fish can be found in Judaism, Islam and Christianity. For Christians in particular there had long been a prohibition against eating meat on Fridays, for instance. This was because Good Friday represented the day Christ sacrificed his flesh for mankind, so his followers would sacrifice eating flesh on that day.
Back in the day, the commonly accepted definition of meat referred to the flesh of warm-blooded animals. Sheep, pigs and cows were meat. But a cold-blooded fish escaped that definition. It was never the Catholic church's intent for people to eat fish on Friday, for instance, only that they not eat meat. Fish was sort of a loophole to the rule. If it wasn't considered meat, it was fair game to eat.
In the past, meat was much more rare than it is today. For the common folk, eating meat was not an everyday event and for the poorest people, something like eating beef would be reserved for special occasions. Beef and pork were usually consumed by richer folk. So, to abstain from something like meat was to show a true sacrifice because it was giving up a luxury. Fish, at the time, was very plentiful and very cheap and to not eat fish for a day would not really be considered much of a sacrifice since people could get it any time they wanted anyway.
This tradition is centuries old and, as such, most of the Catholic/Christian world has grown up with it. Being the largest religion in the world, that means billions of people have this idea in their history that fish is not meat. It's easy, then, for even people in the secular world to adapt this definition to their modern diets.
In Judaism, fish and meat have also been specifically separated in the Torah. Certain foods are not considered kosher and cannot be consumed, and other prohibitions don't allow for meat and fish to be eaten together. However, in making distinctions between what is and is not allowed, the Torah also proclaimed that it was okay to eat fish that have fins and scales. So while lobster or shrimp would not be allowed, salmon would be fine. Likewise, the Muslim faith does not prohibit eating fish with scales.
These religions have histories and traditions that stretch back generations so many people of all faiths have grown up with their own ideas of what is "safe" to eat and in what manner. And while the dictionary may define meat in one way, people's family traditions are typically stronger than what you may find written in a book.
Scientific Definitions of Meat
To be fair, science doesn't spend a lot of time defining meat outside of what a dictionary would define meat as. That said, science regards fish as living creatures and does not classify them differently than most other animals in many regards.
In scientific taxonomy, life is divided into five kingdoms. Fungi, plant, monera, protista and animal. Fish are in the animal kingdom alongside birds, mammals, reptiles, amphibians and so on.
One level down, fish share the same subphylum as other animals as well, known as vertebrata. It is only below this level when they are broken into class when fish are separated from other animals and, in particular, mammals.
From a purely scientific view, the muscle tissue of fish and the tissue of other animals consumed as meat is very similar. It is chiefly made of protein and contains fats, vitamins and minerals that are similar in many regards. The nutritional differences, as we'll see, often diverge after the similarities.
How Do Pescatarians Justify Eating Fish?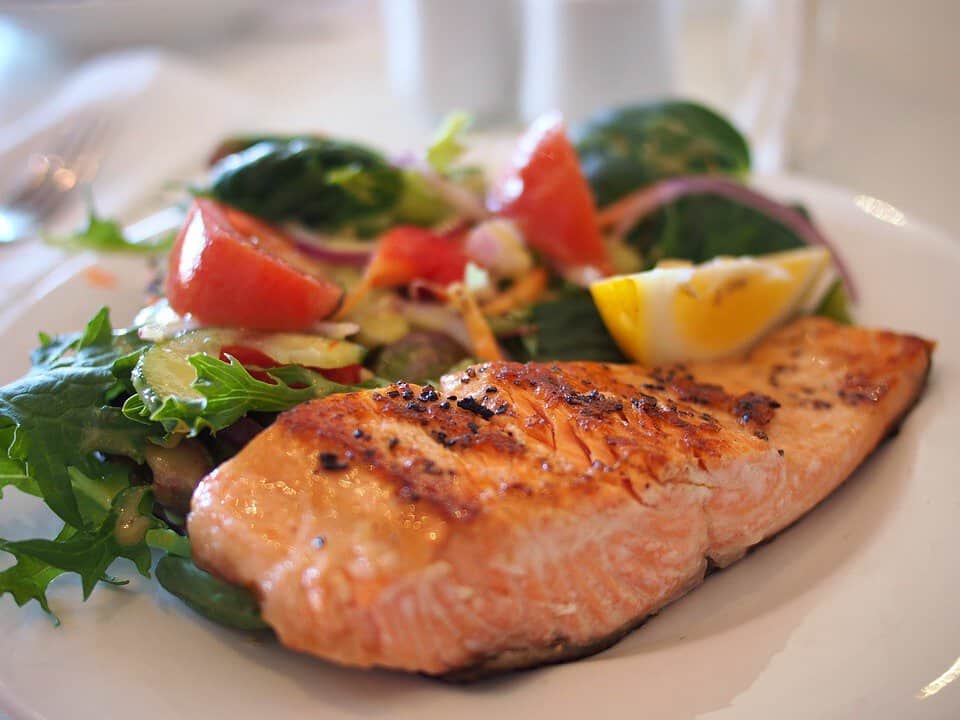 It's likely that some pescatarians, that is someone who abstains from most kinds of meat but will still consume fish, will have their own reasons for considering fish as different from other kinds of meat. Religion could certainly be their reason as well, but some pescatarians have other ways to define meat.
Some feel that, from an ethical standpoint, you can classify fish and meat differently. Fish brains are very different from the brains of mammals and they do not have a neocortex like mammals that is able to process pain as we understand it. This has convinced some that it is acceptable to eat fish and classify it differently than meat because, while they may have the capacity to understand painful sensations and avoid them, they are not able to process pain in the same way as more complex mammals.
While more advanced research is suggesting that fish do, in fact, feel pain, the prior belief is well established. As such, many people who separate fish and meat feel comfortable doing so under the belief they can't be classified the same way
When You Eat Meat vs When You Eat Fish
A more potentially scientific way to explain a distinction between meat and fish lies in what happens when you consume either of them. Fish and meat both offer nutrients but they are also remarkably different.
If you were to eat red meat like steak you would expect to consume the following nutrients:
Protein
Vitamin B12
Vitamin B6
Niacin
Riboflavin
Zinc
Iron
Selenium
Phosphorus
If you had a portion of grilled salmon you'd be getting the following:
Protein
Vitamin B12
Vitamin B6
Vitamin B5
Vitamin D
Potassium
Omega Fatty Acids
There are markedly different vitamins and minerals you can get in fish that you won't get in meat. You'll find more saturated fat in red meat than even in a typically fatty fish. Also, people who have certain meat allergies like alpha-gal can eat fish and poultry but cannot eat beef, pork or lamb. So, essentially, because most kinds of meat are nutritionally very similar, fish is different in a significant enough way that it can be considered by some to be a different type of food than meat. Many people feel there health benefits of fish or chicken meat lend it to being more a part of a healthy diet than beef or pork.
From a dietary perspective, meat and fish are sometimes lumped together in a protein category that may also include nuts and legumes, beans, eggs and poultry all as different types of food but all as sources of protein. So, again, while fish and meat are considered similar, they were still defined separately as was poultry.
Back in the day the government created the idea of the Food Pyramid to show what nutrients and food groups people should be having every day. However, several years back the whole pyramid idea was scrapped and the government now uses a sort of pie chart diagram, dubbed My Plate, which breaks food down into five categories:
Dairy (which, if the diagram is taken as a literal plate, is actually to the side like a glass)
Fruits
Vegetables
Grains
Protein
This simple version doesn't offer up protein types like eggs, meat and fish, it just says protein in general and leaves it up to you to determine which protein you're interested in. That also lends itself to interpreting fish and meat as separate things since no determination is being made one way or the other.
The Bottom Line
In a weirdly unsatisfying way, the modern world has left it up to the individual to truly decide if they want to classify fish and meat as being the same or not. There are arguments on both sides that are fairly well reasoned and justifiable.
If you're only interested in the distinction in terms of the nutrition, then a delicious grilled rockfish could certainly be considered meat. It offers a healthy dose of protein, good fats and cholesterol, low calories, and essential nutrients that vary from species to species and may not all be present in things like beef or pork. That said, the similarities are enough that you could remove terrestrial meats from your diet and replace them with fish and still enjoy balanced and healthy nutrition.
If you're concerned about whether fish is meat from a religious or ethical point of view then you may need to do some more research into your specific concerns to see if you agree with what others have established. For many, fish is not meat because some of the major world religions have long identified a distinction between warm and cold blooded animals, as well as definitions provided from holy texts.
Ethically, some people believe fish and other animals process pain differently and therefore fish do not qualify as meat in the same way. Ultimately this is a question of how you feel about it, if it's something that affects your willingness or desire to consume fish over meat.