After working as a fishing guide in Alaska, I've eaten my fair share of salmon. This grilled salmon recipe is one of my favorite ways to prepare anadromous fish.
It doesn't take long to prepare, and the flavor is just perfect. Pair it up with a tasty salad, and you have a delicious healthy date night dinner that doesn't take long to make.
This is a sponsored conversation written by me on behalf of Albertsons on Broadway and Albertsons Market Street. The opinions and text are all mine.
Where to Get Fresh Fish in Idaho
One of the challenges I've had since I moved away from the guide life, was finding fresh fish. When you spend your days eating salmon that were caught just a few hours prior to dinner, you tend to become a little snobby about these kinds of things.
Luckily, Albertson's on Broadway and Albertson's Market Street have got it figured out. Both stores have an incredible selection of fresh, WILD seafood. In addition to a great selection of salmon, they always have shrimp, crab, and lobster on hand. At the Albertson's Market Street location they even have a live lobster tank and Oysters!
For this grilled salmon recipe I'm using a few wild sockeye salmon fillets. The flesh of these fillets has great color and is firm to the touch.
In addition to all of the great seafood selections, the beef selection at Albertson's on Broadway and Albertson's Market Street is top notch too. Both stores carry Snake River Farms American Wagyu grade beef and have a dry-aged beef cooler on-site. These stores really are a food lovers dream.
After finding all of the ingredients I needed for this recipe I grabbed some flowers for my girls at home and signed my daughter up for a cookie decorating class on Sunday. We've gone to quite a few of the kid's craft events they do at both of the stores around the holidays, and I know that she is going to have so much fun!
Check out the calendar of events for both stores to see some of the fun events they have coming up, and head to the catering desk at either store to sign up.
Preparing Grilled Salmon
There are just three of us to feed in our family. For this recipe, I'm using four 6 ounce sockeye salmon fillets with the skin still intact. The skin helps act as a heat shield while you're cooking the salmon, allowing the flesh of the fish to cook, and also holding it intact.
There are a few additional ingredients you'll need for this grilled salmon recipe (full details in the recipe card below):
Salt and Pepper
Maple Syrup
Butter
Dijon
Apple Cider Vinegar
Worcestershire
In my temperature-controlled smoker, I'm grilling this salmon at 400 degrees. Be sure to clean and then oil your grill grates prior to cooking to keep the salmon from sticking. Place a large cast-iron skillet in the grill while it's heating up.
Season each of the fillets with salt and pepper. Then combine the rest of the ingredients in a small bowl to make the glaze. Brush each of the salmon fillets with the glaze, and then place directly on the grate of your grill or smoker.
After 10 minutes pour the remainder of your glaze in the now hot cast iron skillet, and carefully place each of the fillets in the skillet flesh side down.
Let them cook an additional 10 minutes. The internal temp of the grilled salmon fillets should be 145 degrees prior to serving.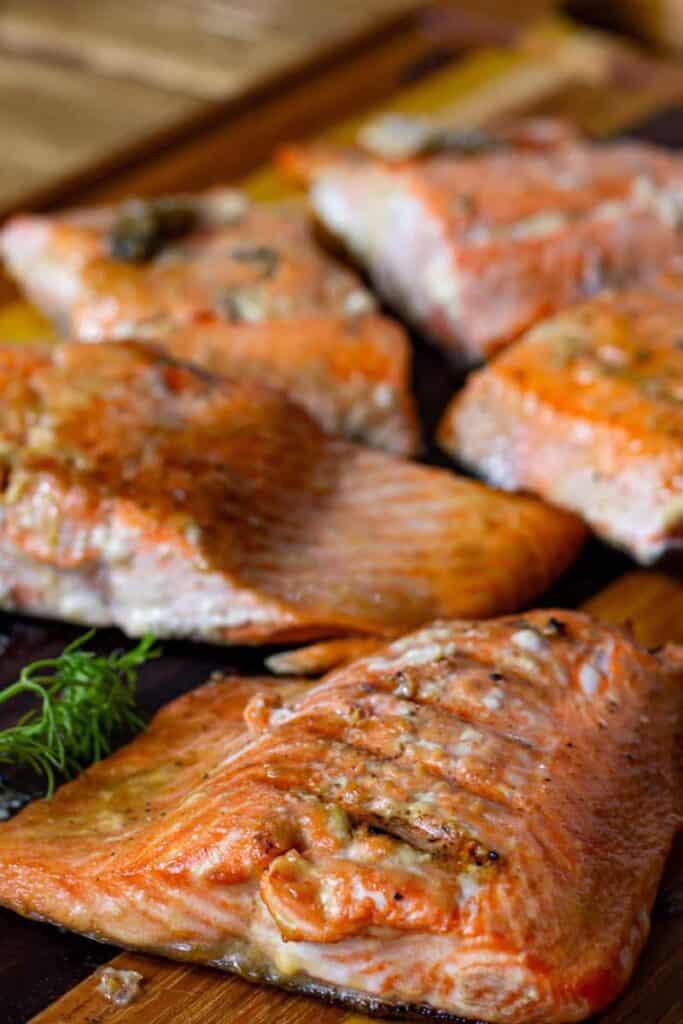 Date Night Done Right
I served this grilled salmon alongside a tasty cucumber salad, and both of my girls loved everything about this simple date night dinner.
I'm so thankful to have Albertson's on Broadway and Albertson's Market Street close by. Both stores have such a great selection of meat, fish, produce, and plenty of other delights. Even more impressive is the help I get any time I'm in one of the stores. They always have everything I need to prepare a holiday meal, no matter what the occasion is.
I hope you make this simple grilled salmon recipe for your next date night! Head over to Albertson's on Broadway or Albertson's Market Street to pick up all the ingredients and give it a try. You can thank me later.
Yield:

Four (6) ounce fillets
Grilled Salmon
This grilled salmon recipe is simple and doesn't take long to prepare. If you're looking for a great date night dinner idea, check this out!
Ingredients
4 4-6 ounce salmon fillets
Salt and Pepper
1/4 cup maple syrup
4 Tbsp Butter, melted
2 Tbsp Dijon Mustard
2 tsp Apple Cider Vinegar
1 tsp Worcestershire Sauce
Instructions
1. Sprinkle a generous amount of salt and pepper on each salmon fillet.
2. Combine the glaze ingredients in a small bowl and brush the fillets with the glaze.
3. Set up your grill or smoker to cook at 400 degrees. Place a cast-iron skillet in the grill while it is heating up.
3. Grill the fillets at 400 degrees skin side down directly on the grill grates for 10 minutes.
4. Pour the remainder of the glaze in your cast iron skillet, and then carefully place each of the salmon fillets flesh side down in the skillet. Cook for an additional ten minutes.
5. The salmon is done when the internal temp of the thickest part of the fillet reaches 145 degrees.
Notes
Cooking directly on the grill grates first before transferring to the cast iron skillet firms up the fillets and gives them a little bit of char.
You can cook the fillets on the grill grates for the entire time, but they will have a slightly milder flavor.
Nutrition Information:
Yield:
4
Serving Size:
1
Amount Per Serving:
Calories:

511
Total Fat:

33g
Saturated Fat:

11g
Trans Fat:

0g
Unsaturated Fat:

19g
Cholesterol:

138mg
Sodium:

488mg
Carbohydrates:

14g
Fiber:

0g
Sugar:

12g
Protein:

38g