I love a good steak, but one of my absolute favorite things to eat are street tacos. I usually order chicken or pork tacos because the steak tacos tend to be a little chewy. That all changes with this flank steak tacos recipe. Every bite is super juicy and tender, and I'm pumped to be able to share this recipe with you.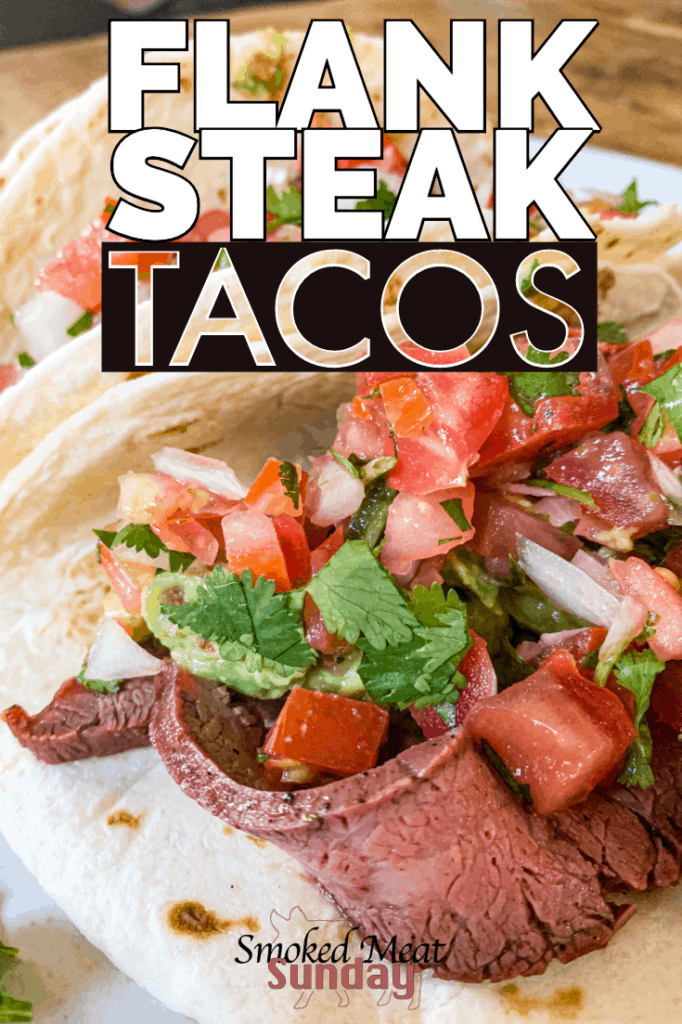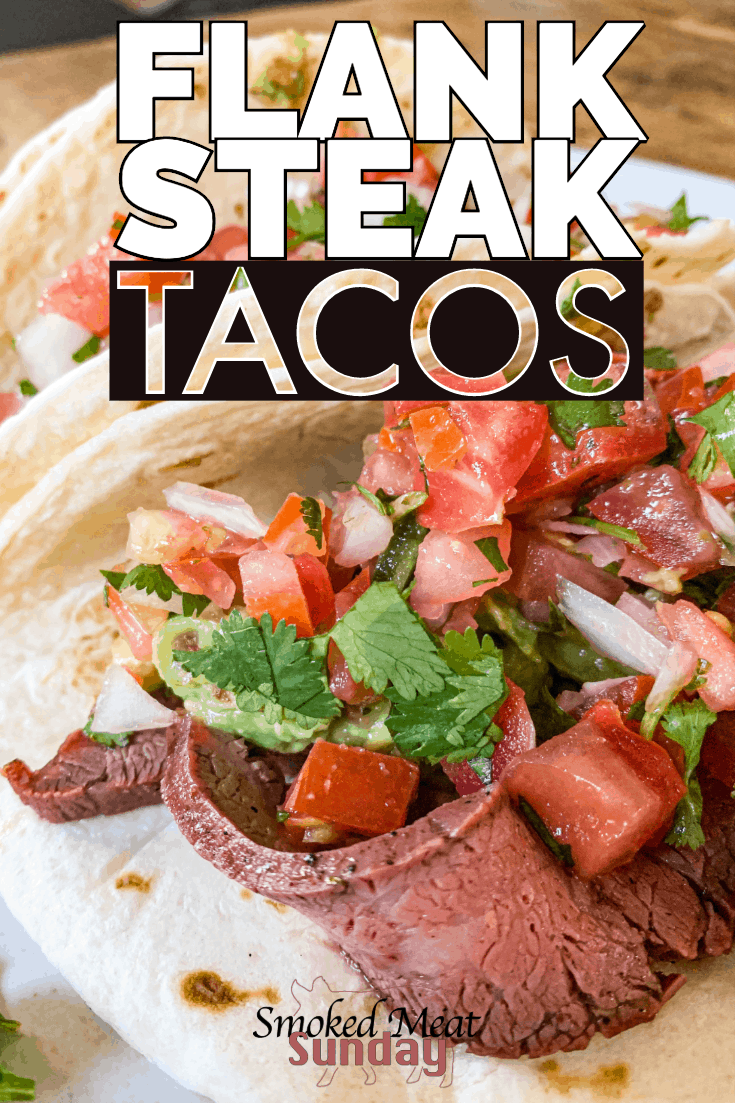 How to Make Flank Steak Tacos
Another name that you might be more familiar with for these is carne asada tacos. The key to these tacos is a flank steak that is marinated overnight. You can use any flank steak, but I believe the key to really getting these tacos extra tender is to upgrade the quality of your meat.
I used a Wagyu Flank Steak for these tacos and the extra marbling in that meat made a huge difference.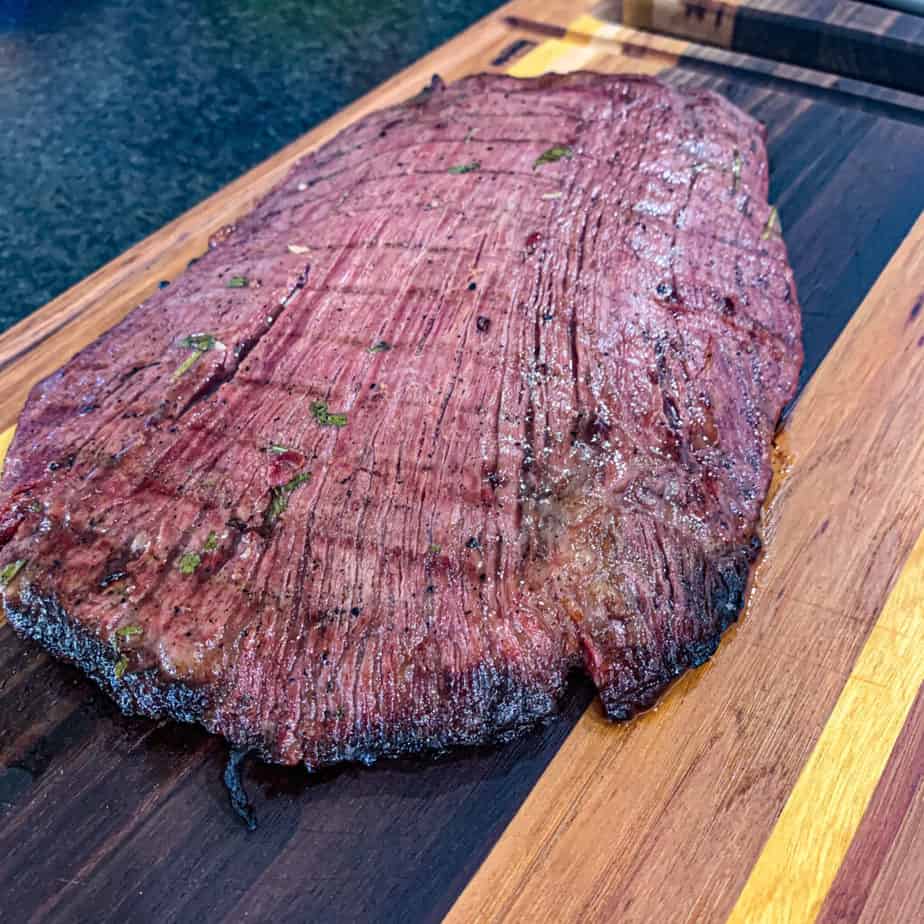 Carne Asada Marinade
For the marinade you'll need the following ingredients (full measurement details can be found in the recipe card at the bottom of this post):
Lime Juice
Garlic
Orange Juice
Cilantro
Salt
Black Pepper
Vegetable Oil
Jalapeno
White Vinegar
Combine all of the ingredients in a bowl. Place the flank steak in a large zip lock bag, and then pour the marinade over the flank steak. Place the bag in your refrigerator and let the flank steak marinate overnight.
How to Smoke Flank Steak Tacos
When you are ready to cook the flank steak remove it from the marinade and use paper towels to remove any excess marinade.
Set up your smoker to smoke and place the flank steak directly on your grill grate. Let it smoke for 10 minutes and then adjust the heat on your smoker up to 450 degrees. Let the steak cook until the internal temp hits 130 and then remove from the grill grates. It won't take long for the steak to come up to temp - 15 minutes tops. Use your ThermoWorks products to spot check temp.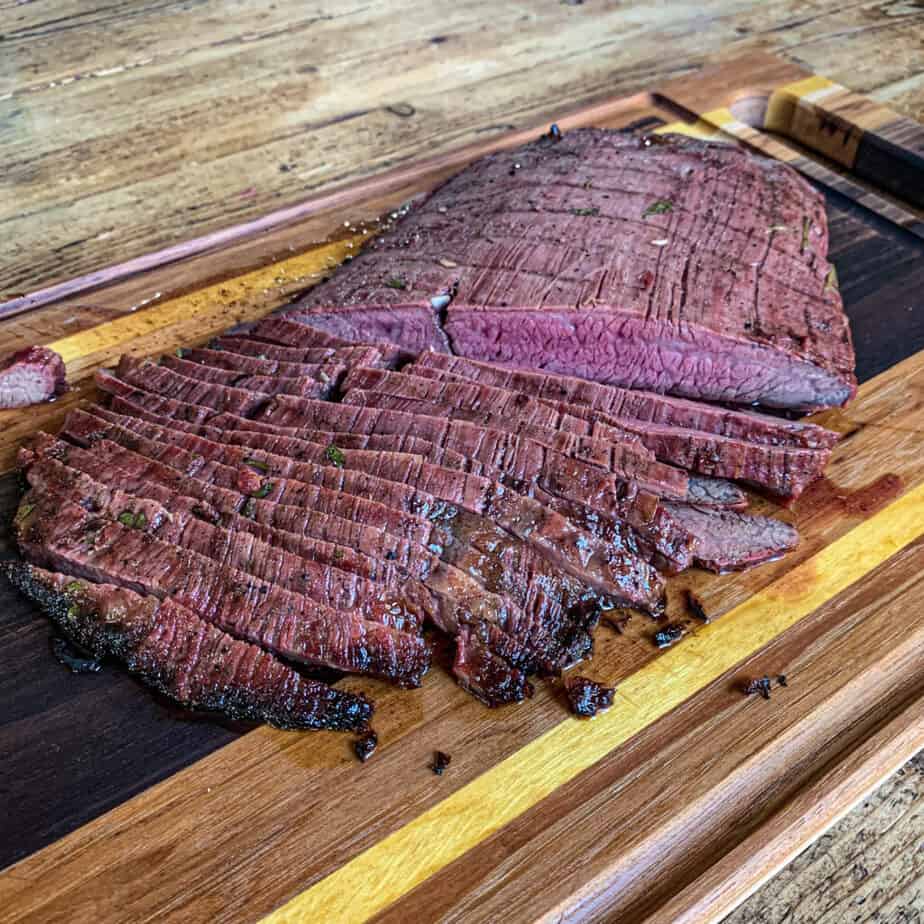 Building the Tacos
Let the flank steak rest for about five minutes and then slice it thin against the grain. Only slice what you're going to use on the tacos. Leave the rest of the meat intact. This will help the flank steak retain moisture and keep the flavor just in case you have leftovers... Who am I kidding? You won't have leftovers; but either way, slice the meat as you use it, not all at once.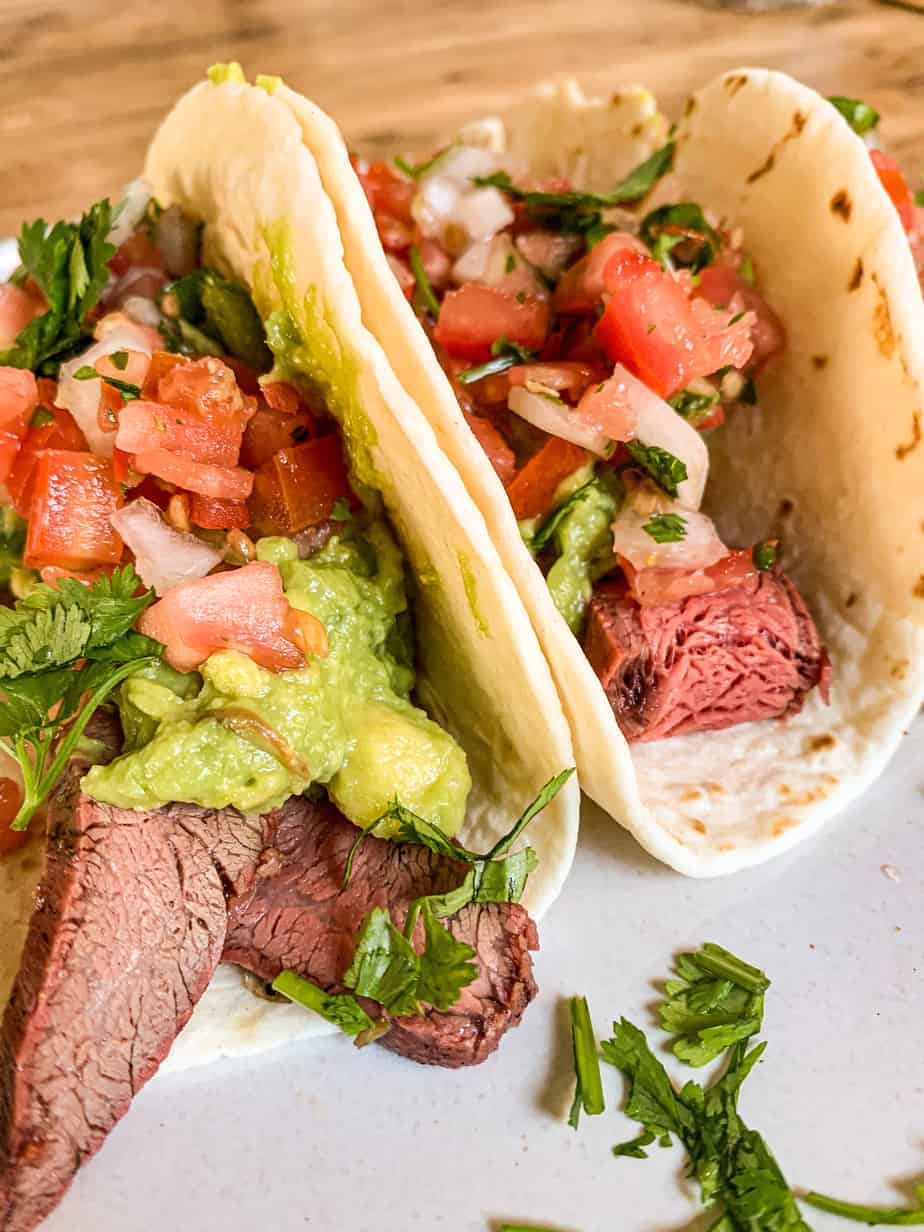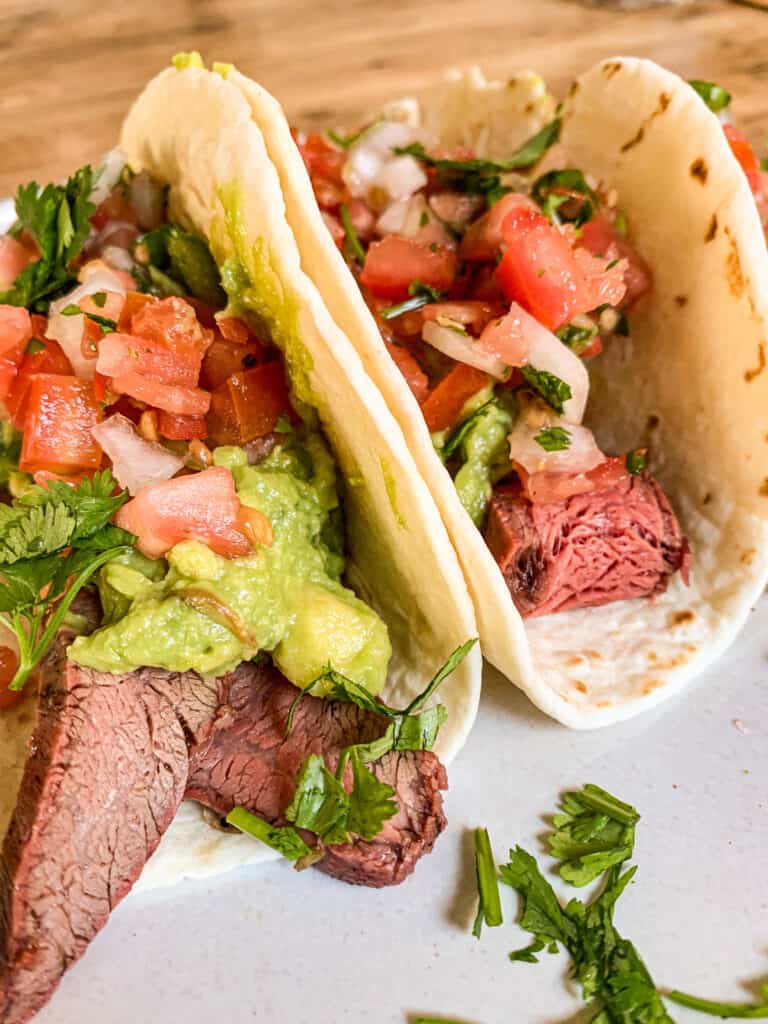 Place a few slices of the thinly sliced flank steak on a small corn or flour tortilla, followed by some pico de gallo, and guacamole. Sprinkle a little cotija cheese on top and then dig in.
these are without a doubt the best steak tacos I've ever had, and I'm sure they'll be the best you've ever had too.
Flank Steak Tacos
These are the tastiest flank steak tacos I've ever had. The secret is in the carne asada marinade and then smoking the flank steak before hitting it with high heat.
Ingredients
Carne Asada Marinade
1

Tbsp

Lime Juice

4

Cloves

Garlic crushed

½

Cup

Orange Juice

1

cup

chopped fresh cilantro

½

teaspoon

salt

¼

teaspoon

black pepper

¼

cup

vegetable oil

1

jalapeno minced

2

Tbsp

White Vinegar
2

lb

Flank Steak

12

Flour Tortillas

2

cups

Pico de Gallo

1

cup

Guacamole

1

bunch of chopped cilantro
Instructions
Combine all of the marinade ingredients and pour over a flank steak in a large ziplock.

Let the flank steak marinate overnight in the refrigerator.

When you're ready to cook remove the flank steak from the marinade and use a paper towel to blot up the excess marinade on the steak.

Place the flank steak directly on the grill grate of your smoker and let smoke at 150 degrees for ten minutes.

Adjust the temperature of your smoker up to 400 degrees and continue letting the flank steak cook until the

internal temperature

hits 130 degrees.

Let the flank steak rest for 5 minutes before slicing thin and serving on warm tortillas with pico de gallo and guacamole.
Notes
I used Wagyu Grade Flank Steak for this recipe and the marbling made a big difference.
I recommend using a ThermoWorks thermometer to spot check the flank steak while it's cooking.
Love tacos? You'll probably like my flank steak taco recipe and pulled pork crunch wrap supreme recipe too!