In our search for the best meat thermometer on the market today, we realized the only sensible way to compile a list of our favorite options was to purchase as many meat thermometers as possible and compare them side by side.
And that is just what we did.
While it may have taken over 50 models and 100 hours of testing, the result is this list of the absolute best Meat Thermometers available today. Whether you're into grilling, smoking, barbecue, or you're just looking for an all-purpose digital meat thermometer; this list will help you choose the best of the best.
The Best Meat Thermometer Guide!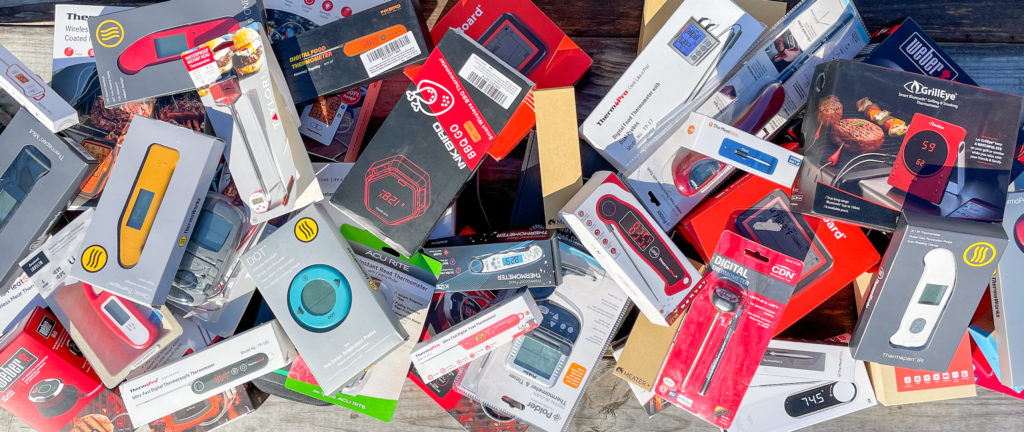 After the long hours of testing and all the pounds of delicious barbecue we were forced to eat along the way, we believe that we've found the best meat thermometers on the market. While there is always room for debate, all of the options you'll see below are, in our opinion, the absolute best option available in that specific category.
There may be no one best meat thermometer for every person, but every option on this list will more than exceed your expectations.
Best Instant Read Thermometer: Thermapen One
What we liked.
Crazy fast 1 second readings
Awesome design
Super sensitive thermoprobe sensor
Look and Feel.
One of the first things you notice when you look at any of the Thermapen line of instant-read thermometers is the lack of a dedicated power button or any buttons at all. Other than a single LED display in the center of the thermometer body, there are no controls, read-outs, or buttons present on the face of the Thermapen One.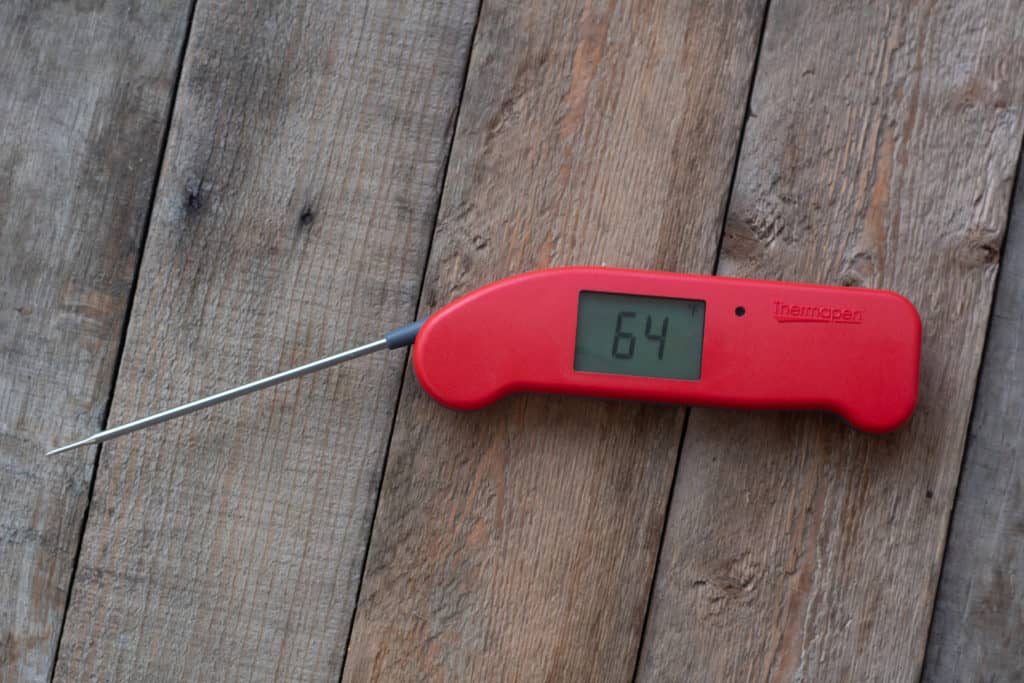 The super sturdy thermometer body feels great in your hand. Thanks to a tight-fitting battery compartment, and the aforementioned lack of buttons/controls, the Thermapen One comes with an IP6 waterproof rating. The Thermapen line of thermometers comes in a rainbow of colors that are perfect for any aesthetic; ours was a deep fire engine red, but with tons of options to choose from, it's easy to find your perfect color.
One nice feature I think it's important to highlight is the Auto-rotating 360° Display.
No matter what direction you turn or twist the thermapen one, the display will automatically shift to the most convenient direction for easy reading. While many thermometers come with displays that can rotate 180°, the 360° screen rotation of the thermapen one comes in handy, especially with more significant cuts of meat!
Using the Thermapen One.
Once we'd unboxed the Thermapen One, we immediately got down to testing it.
One of the SMS pitmasters took the Thermapen One instant-read meat thermometer through its paces throughout an entire Sunday, cooking a delicious Texas Style Brisket.
The first thing we noticed when testing this thermometer was the reading speed. While many high-end thermometers boast 2-3 second times, a 1-second reading is a pretty outrageous claim, and all the SMS testing staff was skeptical.
Over an entire day spent poking and prodding a brisket, this thermometer did not take longer than 1 second per reading at any time. Most of the time, it was almost impossible to start and stop the stopwatch timer we used to measure reading speed in time to capture an accurate measurement.
Beyond fast readings, the ThermoWorks One is an incredibly accurate thermometer. Most digital thermometers will read an initial temperature or two before setting on a stabilized reading. The thermapen one did not have to do that. It jumped to an accurate internal temperature and stayed there. While this might not seem like an earth-shattering revelation to you, this was a pretty big deal to our staff.
On top of lighting fast readings, the thermapen continually produced incredibly accurate temperature readings time after time, which is to be expected from ThermoWorks products like the Thermapen line of thermometers.
The Thermapen One is more than just a good meat thermometer. It is one of the best digital instant-read thermometers we've ever used, and considering how much experience we have at SMS, that's saying something.
Thermapen thermometers have long been some of the most respected barbecue thermometers on the market, and it's only fitting that the new Thermapen One should stake its place on a list of the best meat thermometers available today.
Best Wireless Receiver Style Meat Thermometer: ThermoWorks Smoke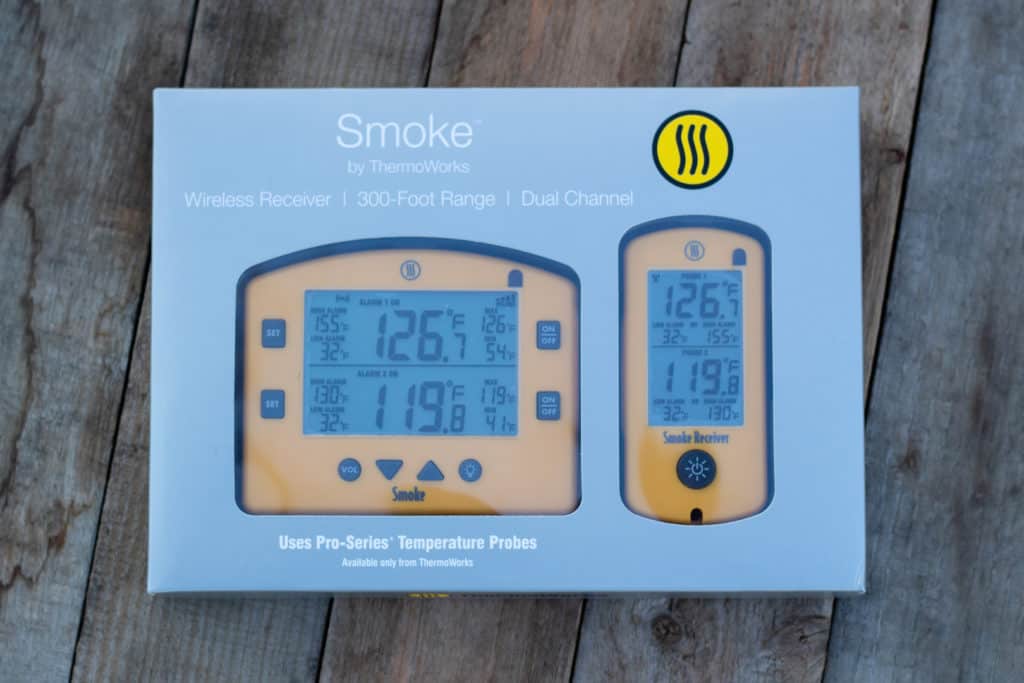 What we liked.
Easy to use and understand
Simple controls and alarms
Great Range
Well made probes and probe cables
Look and Feel.
Like many ThermoWorks products, the ThermoWorks Smoke is a practical, straightforward wireless thermometer probe. ThermoWorks doesn't spend a lot of time worrying about smooth curves or sleek lines with a large central receiver and a boxy receiver.
While the Smoke comes in a two probe and four probe model, our staff unanimously preferred the two probe model throughout our testing. While they are incredibly similar, the two probe model had less to read, and the display was easier to understand at a glance.
The controls for this in-oven thermometer can be found on the thermometer bae itself, and they are relatively easy to understand. Many wireless receiver-style thermometers suffer from control panels that are far too complicated, and thankfully the designers at ThermoWorks have figured out controls that are easy to use.
To set a temperature target or range, press the "set" button at the side of the specific probe readout, cycle through until you reach the appropriate temperature settings, and then confirm your settings.
Once you've set your program or temperature range, they will be automatically reflected on the smaller wireless temperature monitor.
The temperature monitor is about a small remote control size. A large central led display dominates the body—one button on the receiver's face functions as a backlight and alarm dismissal button. At the bottom of the thermometer receiver, there is a small hook/attachment point for the included lanyard.
The Smoke we reviewed comes equipped with two separate pro-series thermistor sensor probes. One is a traditional step-down search made for direct insertion into proteins or products, while the second is an ambient temperature probe with a rounded point. Both probes are built to withstand temperatures up to 500°f. The included grill/oven grate clip helps secure the ambient temperature probe while inside your cooking space.
The probes are made from a braided stainless steel cable, probably the most common material used in leave-in thermometer probe construction. The braided steel cable helps protect the cords when they are shut in a smoker or oven door, but it's essential to store them carefully to avoid kinking or knotting. Unlike wires, steel cable will degrade when kinked, which can decrease your probes' longevity.
The probes come equipped with convenient spring-wound attachment points between the cable and probe body, which helps prevent kinks or breakage, and its small design elements like these make us love ThermoWorks products as much as we do.
Using the Thermoworks Smoke.
The SMS staff is split 50/50 when it comes to wireless thermometers. Half of us prefer wireless receiver-style probes, while the other half likes Bluetooth models with smartphone apps.
While these two types of thermometer probes might seem similar enough, they differ wildly in user interface and interaction. Bluetooth probes allow you to set and maintain unique programs or presets quickly. Wireless receiver probes like the ThermoWorks Smoke, on the other hand, require a little more fiddling to set up presets/programs.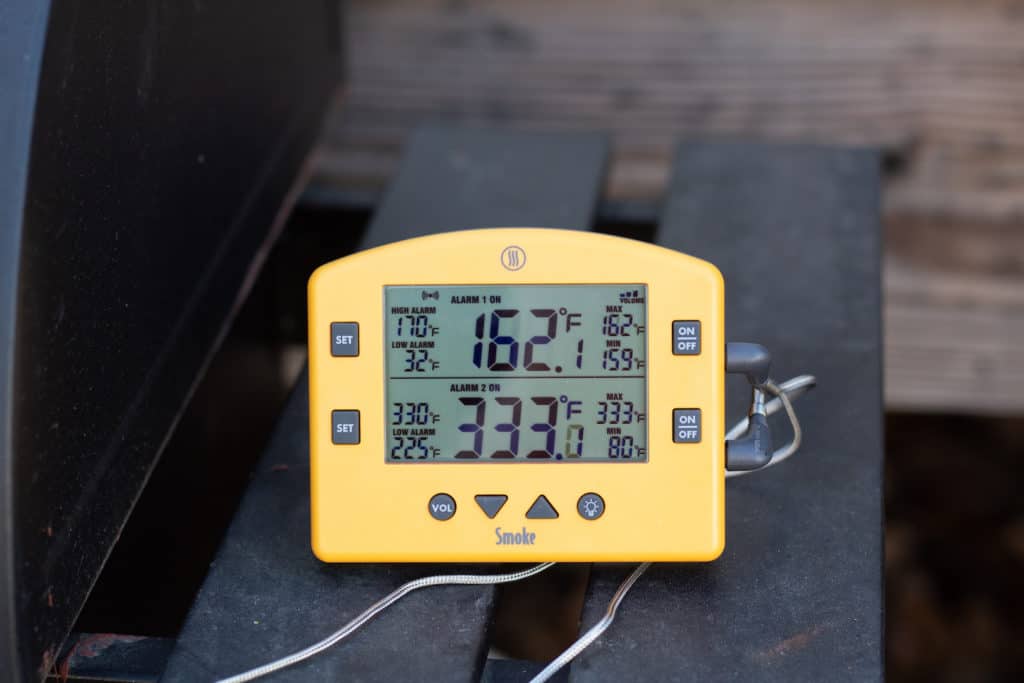 Where wireless receivers require more work to set up, having a specific receiver makes it easy to keep track of your barbecue without worrying about your phone battery or accidentally dismissing the app in the background is very nice.
Our lucky SMS pitmasters got to use the ThermoWorks Smoke over a day spent testing out new spatchcocked chicken recipes. While chicken is often considered a relatively "basic" barbecue product, we love to use a whole chicken as a way to test barbecue tools because small changes in your process can yield significant changes to your barbecue chicken.
Maintaining an even and consistent temperature is key to good barbecue chicken, and the ThermoWorks smoke helps in that area. The wireless receiver had a vast range; it maintained a quality connection at every corner of our testing space and even up to two floors above the smoker.
All of the temperature readings provided by the Thermworks Smoke were incredibly accurate, and thanks to our presets/programs, the wireless receiver alerted us whenever our smoker dropped above or below the desired temperature range.
The only slight issue we ran into was dismissing the alarm using the receiver. While pressing the backlight button on the receiver would dismiss the notice on the receiver, this did not affect the alarm on the thermometer base. To get the alarm to stop sounding on the thermometer base, our testers had to manually dismiss the notice or allow it to continue to sound in the background.
There is a work-around for this, however it requires you to silence the alarm at the base and rely jonly on the receiver for your alarms. It's not a huge inconvenience, but it is a little frustrating.
Overall, the ThermoWorks Smoke represents one of the best wireless receiver-style thermometers available today. If you think you'd prefer a wireless receiver leave-in thermometer rather than a Bluetooth style, there is really no better option than the ThermoWorks Smoke.
Best Wireless Bluetooth Meat Thermometer: Inkbird I4xs
What we liked.
Easy to use
Simple App interface
Includes ambient temperature probe
Great wireless range
Look and Feel.
The Inkbird IB4XS has a very sleek design and a ton of functionality. With a bright central display, four front-mounted probe ports, and a smooth rounded feel, the IBT-4xs has a lovely finish and futuristic aesthetic.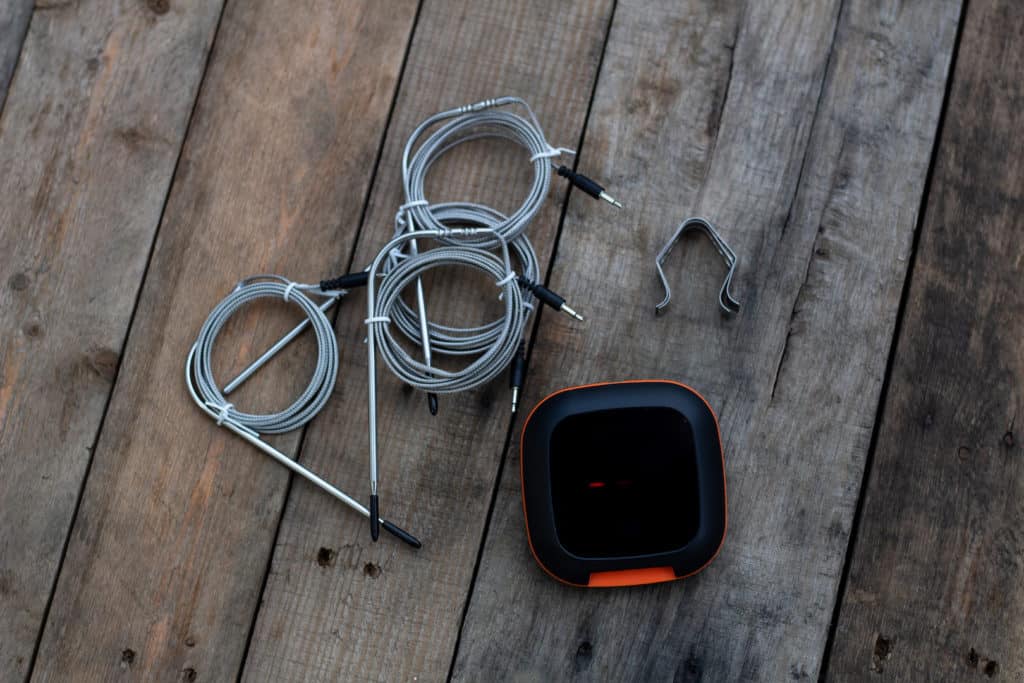 On the back of the thermometer, you'll find the on/off switch as well as the micro USB charging port. While most of the pitmasters at SMS prefer AA or AAA power sources where possible, the IBT-4XS has a very respectable 40-hour battery life; it's just critical you remember to charge it in between cooking sessions.
The display is large and takes up most of the front face of the thermometer body; it is a very bright red that's easily readable in high or low light.
The display only reads whole numbers and doesn't provide a fractional temperature reading which can be annoying. Thankfully, as we found out later, the app offers much more detailed readings.
The IBT-4XS comes with four thermometer probes and two grill clips that allow you to take the ambient temperature of a cooking space without placing the probe directly on a grill or oven grate.
Of the four thermometer probes included, three are traditional step-down probes intended to be inserted directly into your product. In contrast, the 4th probe is a rounded ambient temperature probe designed to measure the air temperature of your cooking chamber.
The probes are constructed from the braided cable that is made to stand up to the heat of your cooking chamber as well as the weight of a smoker or oven door.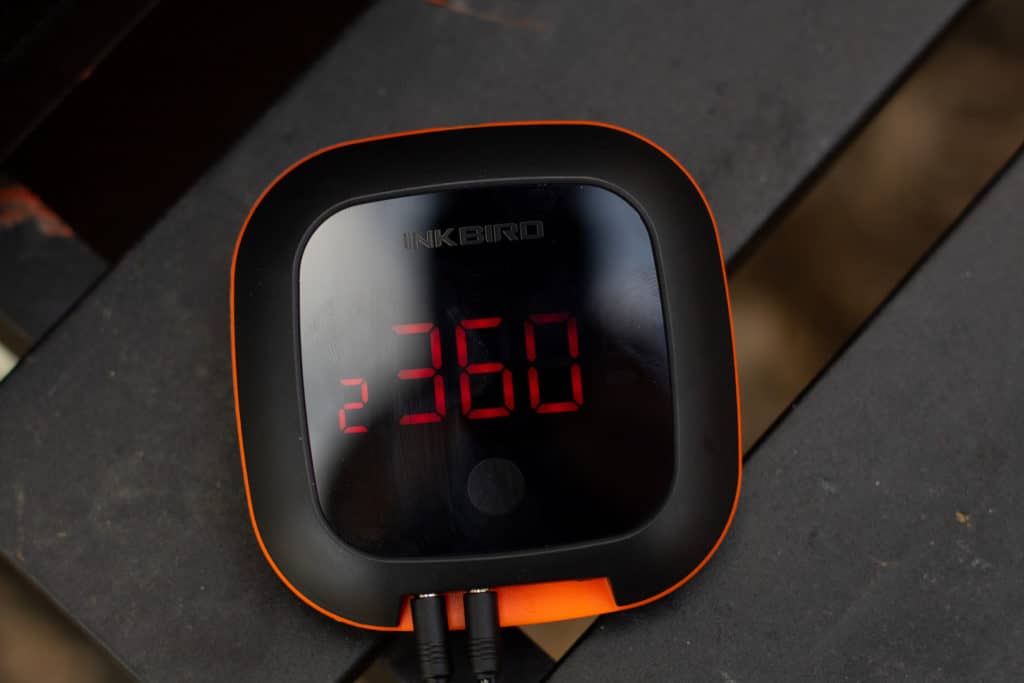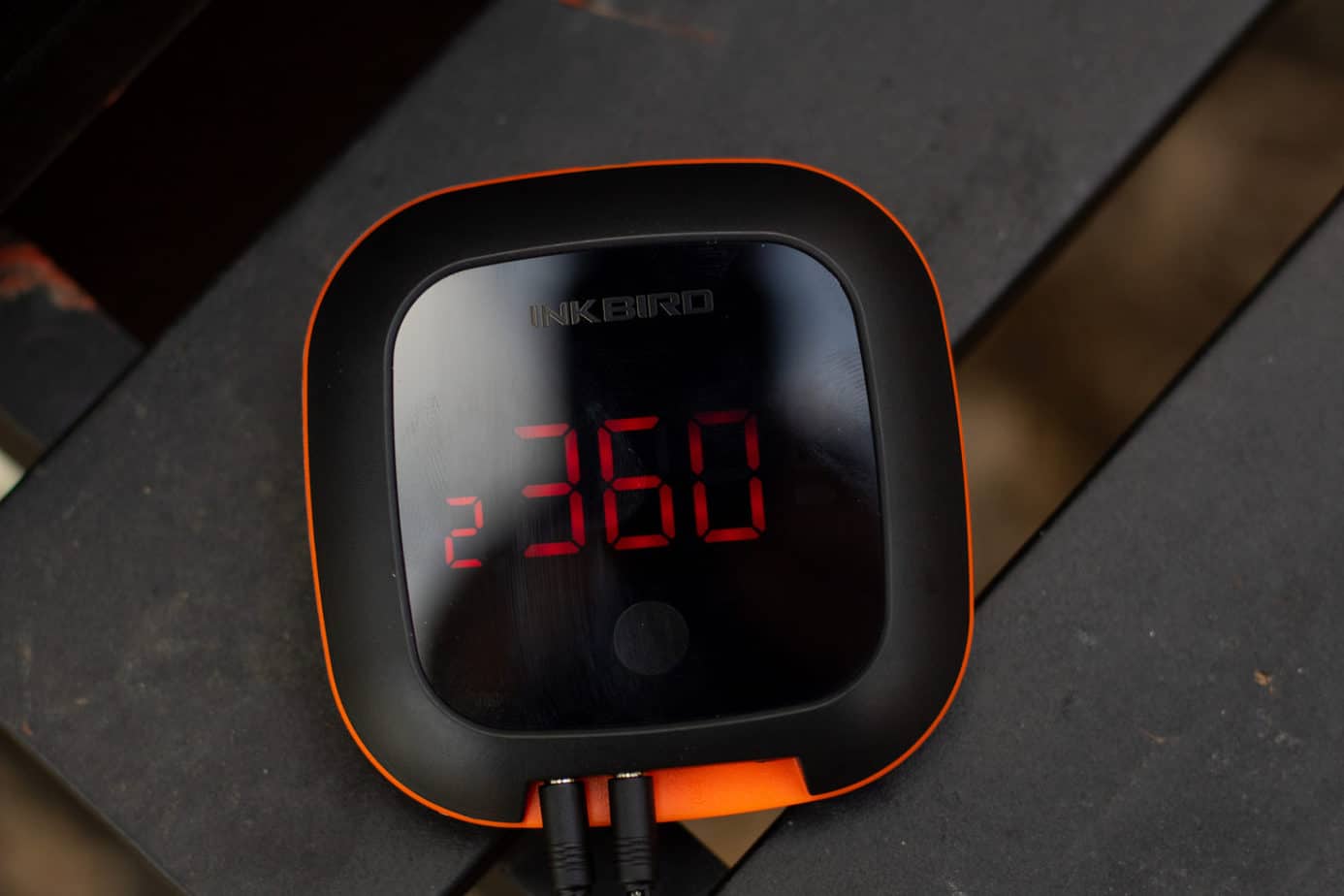 The braided cable is a ubiquitous material in many leave-in meat thermometer probes, and while it does have a lot of benefits, it does have some drawbacks. Braided cable tends to crimp or bend, and if you're not careful, it can impact the longevity of your thermometer probes, so it's essential to make sure you store them carefully.
Using The Inkbird IBT-4XS.
While all of the resident pitmasters prefer different wireless pit thermometers, most of our preferred models are pretty similar, and some have almost identical smartphone applications.
The Inkbirth IBT-4XS and its bigger brother, the IBT-6XS, use an incredibly familiar phone application for monitoring and program setting.
To set up the thermometer, all we had to do was turn it on, download the app and turn our phone's Bluetooth connection on. The application automatically detects and connects to the IBT-4XS without issue.
Out of the box, the IBT-4xs was set to Centigrade, but once our phone provided the thermometer with our location settings, it automatically shifted to Fahrenheit, which was a lovely touch.
Using the app to set custom programs and temperature ranges was a cinch and something almost all of our pitmasters were familiar with, considering how similar the Inkbird BBQGo app was to other apps we'd used in the past.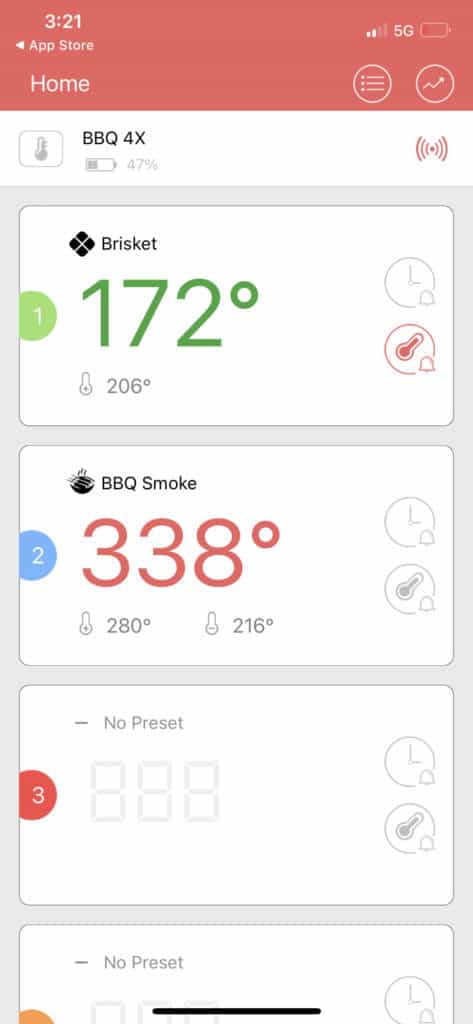 Setting a temperature range is very simple, as is setting a target temperature, and adjusting one of the many pre-set programs/settings is even easier. Once we'd finished changing our smoker program and temperature settings, we got down to the business of smoking some BBQ.
Throughout a 12-hour brisket smoke, the Inkbird IBT-4XS continued to provide accurate, up-to-the-minute information about our smoker and bbq from almost anywhere on our testing site.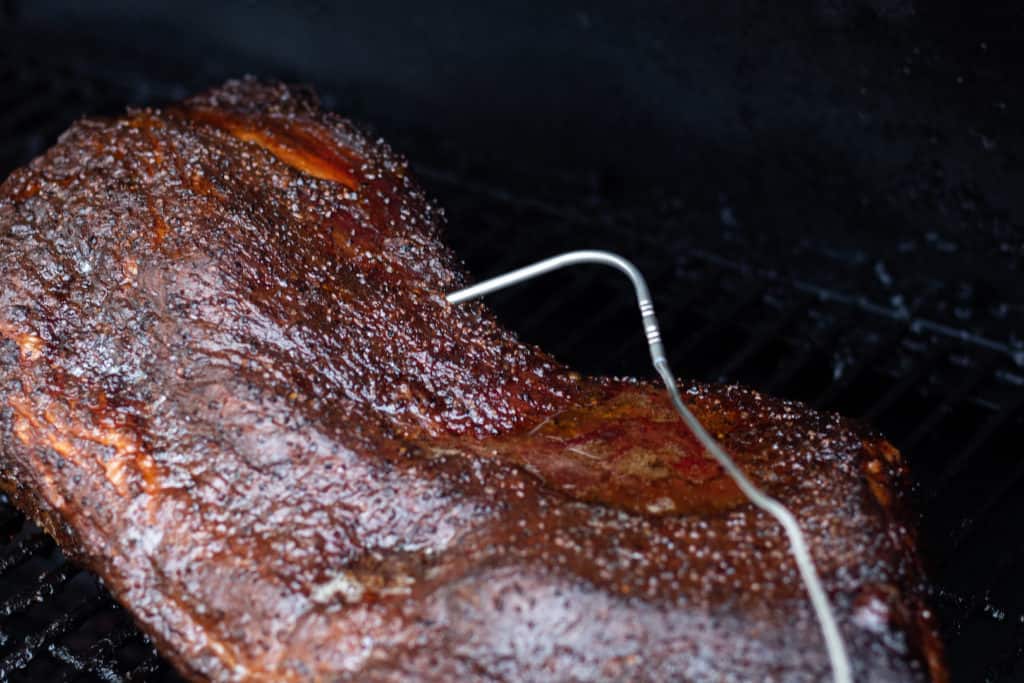 With a stated range of 150ft, we maintained a strong connection from every point in our pitmaster's yard and the second floor of their home. While 150ft might not seem very far, it was challenging to get our Bluetooth connection to drop, and we had to walk down the street a ways to lose connection finally.
The graphing feature in the BBQ Go app allows you to visualize the progress of each thermometer probe, helping make it easier to identify temperature spikes or drops. This kind of tracking ability can help strengthen your barbecue process and make it easier to understand where minor improvements can be made along the way.
The Inkbird IBT-4XS is an excellent Bluetooth leave-in meat thermometer from a company that knows how to make great thermometers. If you're in the market for a new pit thermometer or want to give a Bluetooth multi-probe thermometer a try, the IBT-4XS by Inkbird is one of SMS' favorite options.
Best Completely Wireless Meat Probe: Meatstick X
What we liked.
Completely wireless meat/oven thermometer
Comparatively strong battery life
Great Range
Awesome app integration
Look and Feel.
By this point, everyone at SMS is super familiar with the general look and feel of the majority of thermometer options available today. While there might be some slight variation in design, materials, and UI, most thermometers resemble one another somehow.
The MeatStick X Smart Meat Thermometer doesn't look like many thermometers we've seen before. While there may have been an explosion of completely wireless thermometer probes over the past year or two, this is an entirely new category, and for some, the "bleeding edge" of thermometer tech.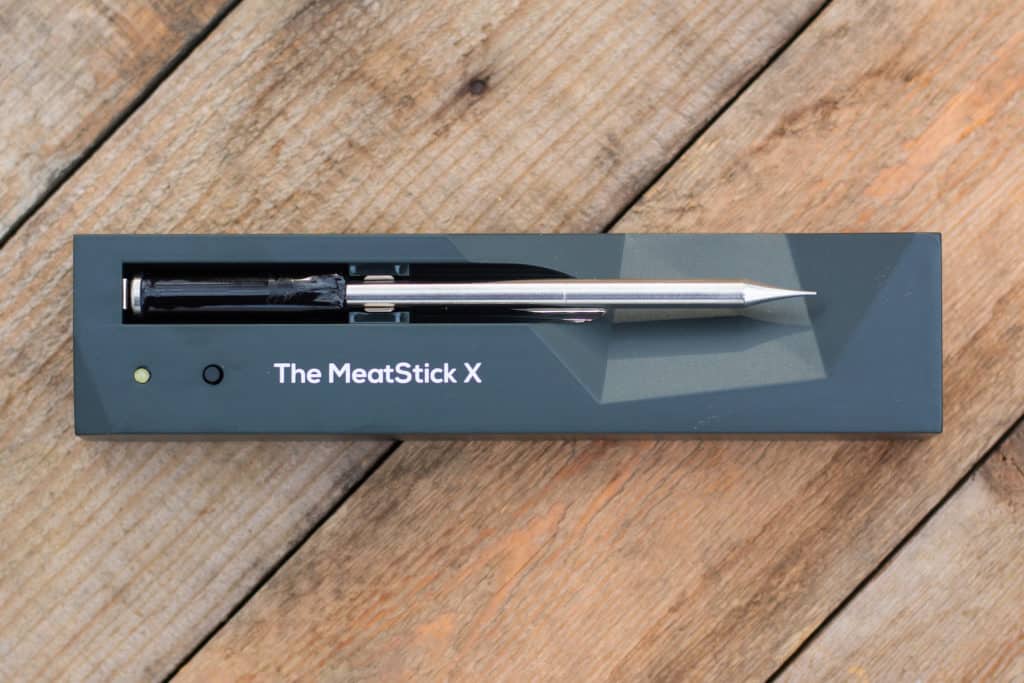 When you open up the MeatStick X packaging, it's instantly clear that this isn't like other thermometers. The probe itself is about the size of a ballpoint pen and sits firmly inside the charging case. To the right of the case, once you've removed the clear plastic lid, you'll find a single button and two led lights, one red one green.
When we removed the Meatstick X from its charging port, we were pleasantly surprised by how sturdy the device felt. The top of the probe is squared, and the body of the thermometer tapers towards the tip, giving the entire device a golf tee feel. The probe is flat stainless steel, while the top of the probe and the ambient temperature sensor itself is black.
The probe itself is not the thinnest thermometer probe I've ever used, but some allowances can be made because it's an entirely self-contained thermometer with no wires whatsoever.
After removing the battery tab and powering the charging base, you need to return the probe to the charging port and allow it to charge fully before you can operate it. While the battery does have a very generous 10-hour lifespan, it needs to charge for up to 4 hours before its first use.
Using the Meatstick X.
After the Meatstick X had fully charged, it was time to take it out for a nice long test drive.
To get an appreciation for just how this thermometer worked in real life, we decided to hand it off to one of our resident pit masters during an excellent long Sunday smoking session.
Our SMS staff member used the Meatstick X throughout a Sunday to keep an eye on his barrel smoker while testing out a new recipe for pork belly burnt ends. While the battery life on the Meatstick X can last for 10 hours which is fine for pork belly or other quicker proteins, if your going for the laung haul and smoking for 12, 18, or even 20 hours, the battery life on the Meatstick X wont cut it.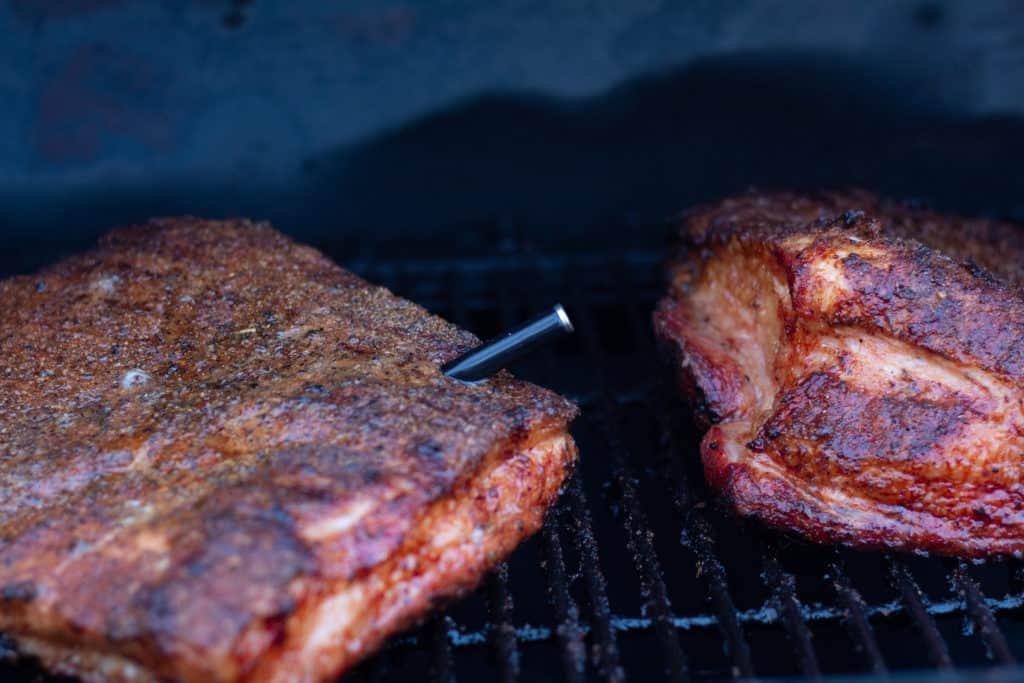 While a 10-hour battery life for a completely wireless thermometer probe isn't too shabby, if you're planning on going for long-haul proteins like brisket, you may need more than one Meatstick X to get the job done. Luckily we only had to smoke for 6 or so hours, so the Meatstick X's battery life was more than adequate.
One area where we thought we would run into trouble was with the overall range of the MeatStick X.
Most completely wireless thermometers have fair to moderate ranges. Still, it can be easy to lose the signal, especially if the thermometer can only access your Bluetooth and not a wifi connection.
In all of the tests performed throughout the day, the MeatStick X never once lost connection, and we were working hard to make it happen. Eventually, we had to walk down the street and get2 houses away from our testing site to make it finally lose connection. When we began walking back, it quickly reconnected and continued to provide up-to-date temperature readings.
The app interface for the MeatStick X was one of our favorite parts of this thermometer. A good UI is often the difference between a tremendous thermometer experience or a bad one, and the folks at MeatStick have worked to provide an easy-to-use app.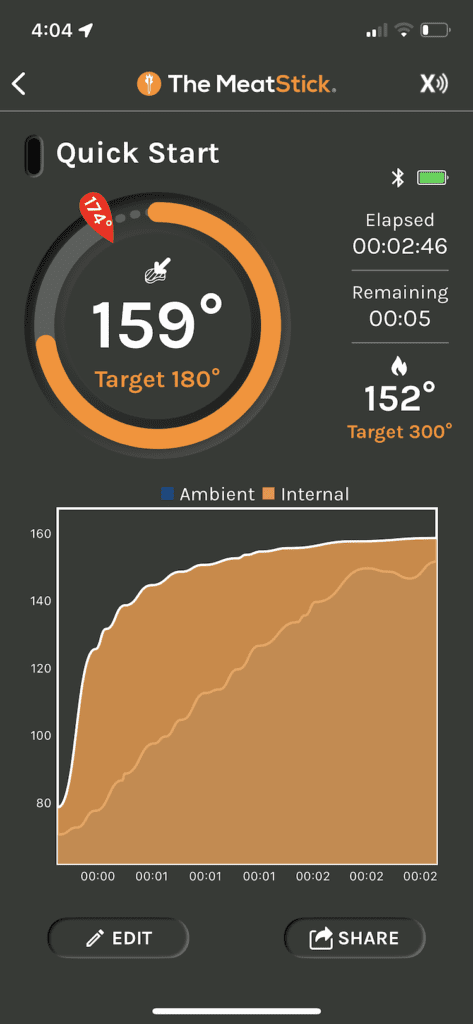 You can quickly set temperature settings and ranges, providing alarms when the desired temperature has been reached or minimum and maximum temperatures for your oven or smoker.
In the app, you can track the progress of your barbecue through a convenient graph that helps visualize things like temperature drops/spikes and the rate of temperature change in your protein.
Overall, the MeatStick X is an excellent thermometer that allows you to monitor product temperature and ambient temperature seamlessly and without a single wire. With a fantastic range, a fantastic app, and a very respectable 10-hour battery life, it's easy to see why many people think temperature probes like the MeatStick X are the future of meat thermometers.
The SMS Thermometer Review Process.
We take the testing process behind this list extremely seriously. In fact we spent more than 100 hours testing over 50 different thermometer options before we felt we had enough experience to truly rank the best meat thermometers available.
To begin, every single thermometer we considered for this list was rigorously tested by SMS staff, all of whom have decades of barbecue, grilling, and smoking experiences to lean upon.
With more than three decades of combined barbecue/smoking experience, all of our testers approached these reviews with a deep understanding of what makes a meat thermometer great.
While this list only represents the best of all the tested models, we started this process with over 50 different thermometer options.
Determining the Competition.
Building a solid field of options was the first and most important part of this process. We began by scouring social media and message boards for insight into popular brands/models, took real-life testimonials from peers and friends, then we looked for models we'd never seen before with great reviews.
After our initial research had concluded, we purchased over 50 distinct thermometer models, which represented an investment of over $4000.
Once the thermometers arrived, we broke them into different categories and established testing methods and criteria to work from.
Testing Methods
When we finally got around to testing all of the thermometers we'd purchased, we tried to stick to two pretty straightforward rules.
All tests had to be performed by SMS staff.
All tests had to be performed under real-life cooking conditions.
We began to devise several Key Performance Indicators from those two starting points that would allow us to compare and contrast the different thermometer models and hopefully decide which one was the king of the crop.
KPI's
The different Key Performance Indicators we used in our tests varied slightly from category to category, but for the most part, they remained pretty consistent.
We evaluated our thermometers based on the following criteria:
Battery Life
Accuracy
Speed of reading
Transmission Range*
Quality of app*
Design
Build Quality
Final thoughts on the Best Meat Thermometers
When choosing a meat thermometer for your smoker or kitchen, it's essential to think about what will work best for you. While a wholly wireless or Bluetooth model might sound fun, is that something you're going to want to use?
Almost anyone can benefit from an instant-read meat thermometer, but not everyone is going to need a multiprobe wireless model or a high-tech gadget like the Meater Pro.
Try to keep these things in mind before you purchase your next thermometer, and it might make the process just a little bit easier.
1. How often are you planning on using the thermometer.
2. Do you care about wireless or Bluetooth functionality?
3. What do you plan on cooking most often.
4. What kind of battery do you like best.
Whatever your needs, any of the thermometers on this list will provide years of accurate and consistent temperature measurement. If you're looking for a new meat thermometer, every one of these options will certainly fit the bill!